Pension Woody Note
ペンションウツデイノート
Niseko Accommodation in the Heart of Hirafu ヒラフ
Five Star Friendly - Budget - Bed and Breakfast
Pension Woody Note, Niseko accommodation in the heart of Hirafu. Looking for Niseko accommodation? Go no further. At Pension Woody Note you will find 'five-star-friendly' budget bed and breakfast accommodation. Centrally located in the lower Hirafu village the free shuttle bus stops at the front door.
Room Rates
Twin and Larger Rooms
Twin and Larger Rooms - Two or More Guests - Y8,500 Per Person Per Night - Includes Breakfast and All Taxes
Cabin
Cabin - Y8,500 Per Person Per Night - Minimum Five (5) Guests - Maximum Ten (10) - Includes Breakfast and All Taxes
Single Occupancy
Single Occupancy - Y10,500 Per Night - When Available - Includes Breakfast and All Taxes
Pension Woody Note - Japanese Owned Budget Niseko Accommodation

Pension Woody Note is a family run, family friendly budget pension. Winter guest capacity is about 40 guests. Woody Note consists of four buildings: The Pension Building, Virginia and the two Cottages (Site Plan). The Guest Rooms are basic lodge style accommodation. Each Guest Room is individually heated and has a TV. All beds are western style with guest rooms ranging from family size to twin accommodation.
Pension Woody Note is the best value Niseko accommodation on the mountain. It is a bed and breakfast establishment with shared bathrooms, and toilets. Each Cottage accommodates eight guests and has a bathroom and toilet. A hybrid buffet breakfast is served daily in a common dining room. Woody Note, not five star, but always five star friendly.

Pension Woody Note -  Non-Smoking
Pension Woody Note is a Non-Smoking establishment. Smoking in Japan is still prevalent but there has been a marked improvement in health education in the past ten years. Guests understand the non-smoking rule and responsibly smoke outside the buildings.
At Pension Woody Note the bathrooms are Japanese and clean. Every toilet has a built-in bidet. Someone once commented that civilization is a hot bath and a clean bottom, Woody Note has nailed that.
The pension building has a common TV room, more a lounge room, where apres-ski drinks and nibbles are always in fashion. In January the televised Tokyo Sumo competition brings howls of delight from relaxing guests. There is a guest fridge in the dining room where guests may store their beer, wine and cheeses.
At Pension Woody Note the dining and TV rooms create a large open connecting space where guests may relax at any time of the day. In the evenings most guests meet in the dining room for a relaxing drink prior to going out to dine at one of the many great restaurants in Hirafu, the surrounding resorts, or Kutchan. Toshio and Rie will arrange restaurant bookings and will often arrange for the restaurant to provide transport. First time guests find Toshio's recommendations helpful as it allows them to dine with confidence. Returning guests are often keen to try a new dining experience with Toshio's recommendation.
The Pension building and the Cottages have been constructed from timber logs in the style of a North American cabin or a Russian Dacha. The timber construction creates a warm environment enhanced by the warmth of your hosts, and the friendliness of the guests.

Pension Woody Note - Great Breakfast - 07:30 to 08:30
The Woody Note breakfast (included in your accommodation price) is a hybrid buffet with hot and cold dishes and a mix of Japanese and Western foods. Hot coffee, a selection of teas, cereal, home made yoghurt, eggs, toast, Rie's home made apple jam (don't miss out), salads, pasta (you will need those carbs), cold meats or fish, and fresh fruit, make up some of the dishes.  Breakfast is served in the dining room from 07:30 to 08:30.
Location
The Best Position On the Mountain
Woody Note is on Momiji Zaka (Maple Leaf Slope) which makes it the premium position in Hirafu. Why? It is not intuitive but Lower Hirafu is actually better positioned than Upper Hirafu. A shuttle bus from 07:15 to 22:00 stops at the front door of the Pension. There are a number of conveniently located bus stops in Lower Hirafu but only one (excluding the Welcome Centre and the Hirafu Gondola) in Upper Hirafu. After a big night out, Upper Hirafu guests must walk home uphill! Lower Hirafu guests can just stroll home.
Toshio San makes a number of morning bus trips to the Hirafu Lifts at 08:15 'First Tracks Bus'; 08:45 'Early Rush Is Over Bus' and 09:30 'Hurry Slowly Bus', ferrying guests to any of the three Hirafu starting lifts. And if you wish to start your day at Hanazono, there is a Hanazono bus at the top of Momiji Zaka (Hirafu Intersection Bus Stop). To get to and from the ski lifts at other times there is the Red Bus which is a free shuttle bus. Your bus stop is Woody Note https://hirafufreebus.com

Navigating Hirafu
Navigating your way around Hirafu is simple. There is only one set of traffic lights. The other key landmarks are the two Japanese convenience stores ('convenies' in Japanese) Seico Mart and Lawson, the Welcome Centre, the Hirafu Gondola, The Ace Quad (Centre four), the Ace Family Pair, and the two bus stops on Highway 343. Oh and of course your favourite bar!
Navigating Hirafu

Woody Note is located on Momiji Zaka (Maple Leaf Slope) directly opposite Bus Stop Two. It consists of four separate buildings: The Pension; The Cottages; and, Virginia. Depending upon availability and the number of guests in your party accommodation may be in any one of the four buildings.
PENSION WOODY NOTE SITE PLAN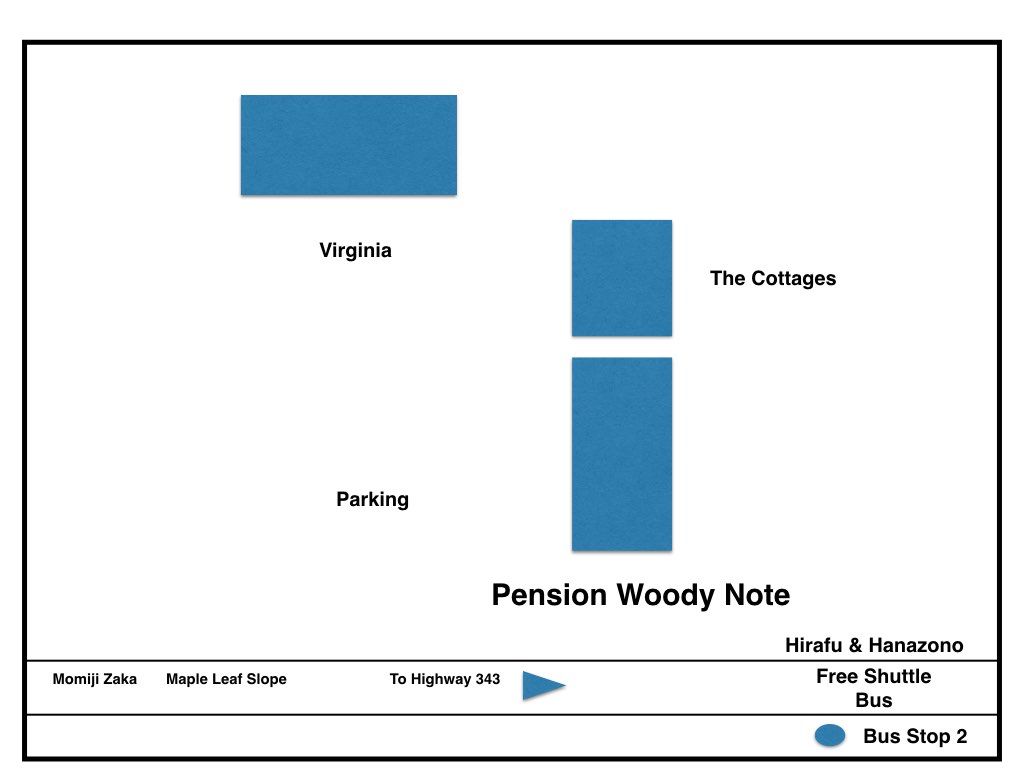 Momiji Zaka the Original Home of Hirafu Accommodation
Once home to eleven Pensions now only one remains, gentrification has taken its toll on Momiji Zaka.