Hirafu to Kutchan Train Station Winter Bus Schedule 2019/2020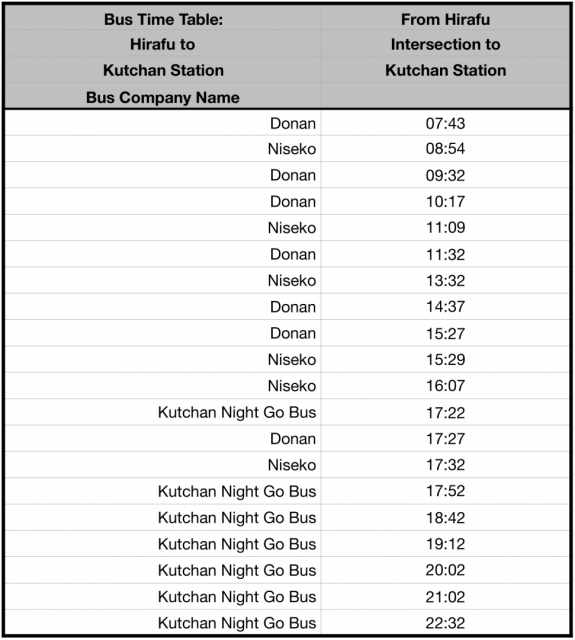 Kutchan Train Station to Hirafu Winter Bus Schedule 2019/2020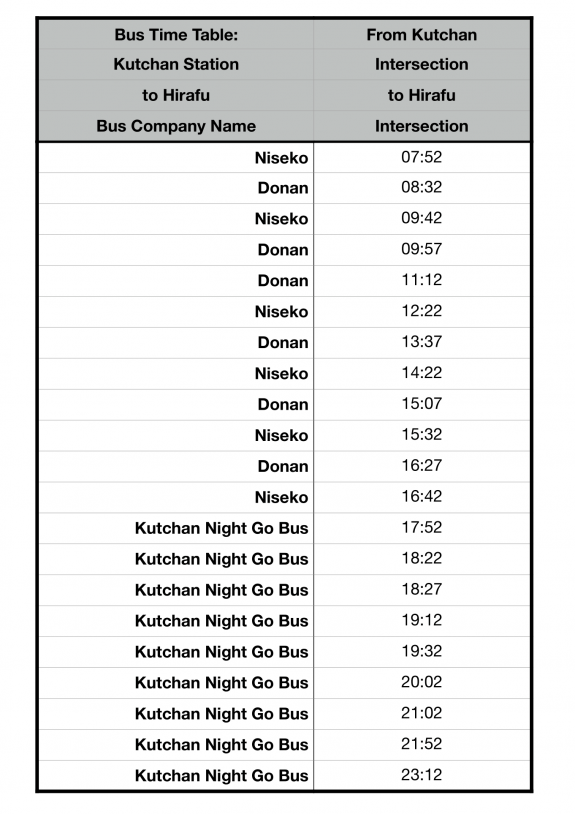 The Hirafu - Kutchan Train Station Winter Bus Schedule
This is the winter bus schedule between the Kutchan Train Station and Hirafu.
Three bus companies service this route:
Donan Bus Company (green buses);
Niseko Bus Company (off-white buses) and
Nisiko United which provides the Kutchan Go Night Bus.
Displayed are the times of all buses that run between Hirafu and the Kutchan Train Station. The Hirafu departure point is the Hirafu Intersection.
The Kutchan departure points are:
the Kutchan Train Station, and
the bus stop on Highway 5 opposite the Lucky Supermarket.
The buses from the Kutchan Train Station terminate at the Hirafu Welcome Centre. Therefore if travelling to the Higashiyama, Niseko Village or Annupuri resorts you can catch a Niseko United shuttle from the Welcome Centre. Taxis are also available from the Hirafu Welcome Centre.
Please note the Donan bus route to and from Kutchan is via Route 343 which joins Highway 5 at the MaxValue Supermarket corner. As a result the bus does not pass Homac.
The Niseko Bus Company and the Niseko United 'Kutchan Go Night Bus' use Route 631 to and from Kutchan.